Watchman, Tell Me What Is Happening! 
I truly believe that every heart is pondering the situation we are in at the moment. The fear of death has somewhat crippled the love of living. The sad fact is, we are in a fight in which we cannot see the enemy and at any time it can attach itself to any individual. That's the fear in which the world is living today. The silent killer is on the move, all we are told to do is exercise care, isolate and keep your distance.
There is a greater enemy we come face to face with every moment, yet we are not scared of him. When this one attaches himself, he takes away life forevermore. The word of God says, "We wrestle not against flesh and blood, but against principalities, against powers, against the rulers of darkness of this world, against spiritual wickedness in high places" (Eph. 6:12). It also reminds us that we have an adversary, which is the devil, who walks about as a roaring lion seeking whom he may devour (1 Pet. 5:8). Him we cannot see because he is spirit.
Exercise care! Isolate yourself from him. Keep your distance. Invite Jesus to take up residence in the heart so that there will be no room for the devil. 
Soon, the darkness will pass and we will see our Lord and King.
God bless.
Michael Gray, First Elder 

Wednesday Night at 7 pm, Friday Evening Vespers at 7:15 pm.  Bible Study at 4:30 pm -  AY at 6:00 pm followed by Vespers.   Join from your computer, tablet or smartphone.  Sabbath School and Divine Service will be streamed via YouTube beginning July 11th.

https://www.gotomeet.me/CalvarySeventh-day

You can also dial in using your phone.
(For supported devices, tap a one-touch number below to join instantly.)

United States (Toll Free): 1 866 899 4679
- One-touch: tel:+18668994679, 307970421#

United States: +1 (669) 224-3319
- One-touch: tel:+16692243319, 307970421#

Access Code: 307-970-421
Youth Zoom Meetings  
Sabbath School at 9:30 am – 10:30 am for     Primary and Juniors; Earliteens 11 am: 
Meeting ID: 861 105 1704
Password: 7R3Wki

1.   Services for Sabbath July 4th will be with the Northeastern Conference Virtual Camp Meeting.  Next week all services will be streamed live from Calvary thru YouTube.  You can access the service thru our website at:  www.calvarysda.com. 
2.  Northeastern Conference Virtual Camp Meeting will be June 26-27 & July 3-4. Theme: "We Have Come This Far By Faith".  Live on NEC Social Media:  Facebook, YouTube and NEC Website.  Speakers:  Alexander Bryan, Executive Secretary for the North American Division and Dr. Oswald Euell, NEC Secretary.
3. Please continue to pray for each other, our families, all essential workers and the world as we go through this pandemic. 
4.  Calvary Food Pantry Hours are: Sundays:12 noon to 1pm and Thursdays 3:30pm to 6pm.
5.  Education Day will be Sabbath, July 18th and the guest speaker will be Pastor Corey Marshall.  The theme for the day is "Endangered".   Our AY program will begin at 5 pm with a panel discussion.  Please join us as we celebrate "education." 
6.  If you would like to be a part of the Calvary SDA Cottage Meeting Team or have Cottage Meeting Service on WhatsApp please contact Bro. Cleve Williams @ 203-521-6671 or Bro. Willie James 203-954-7063.  

Leandra Gaymon David Roberson – 6
Madelyn Millien - 7
JoycinthHewell - 8
Georgia Gaymon - West River Rehab Center, 245 Orange Ave, Milford, CT - 203-876-5123
Hester Hancock-Scott - Jewish Sr. Service, Boylan 4200 Park Ave.- Bpt. - 203-365-6400
Mavis Burnette -25 Cartright Street - Bpt- 203-545-1542
Maima Gbanyah - 15 Clark Street. - Bridgeport, 203-296-1685
Michael Scott – 22B Karen Court - Bpt. – 475-236-9434
Neville & Rose Depass-1049 Old Town Road, Bpt, 203-212-0233/ 203-870-8194
Yvonne Coakley – Ludlow Rehab – CT – 203-371-2890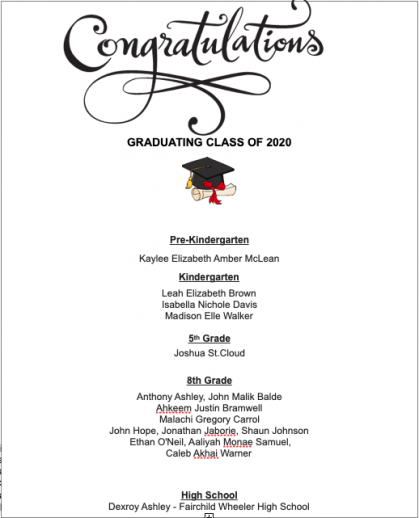 "Peace I leave with you; my peace I give you. I do not give to you as the world gives. Do not let your hearts be troubled and do not be afraid."  John 14:27

Sunset Sabbath:  8:28 pm                        Sunset Friday:  8:26 pm