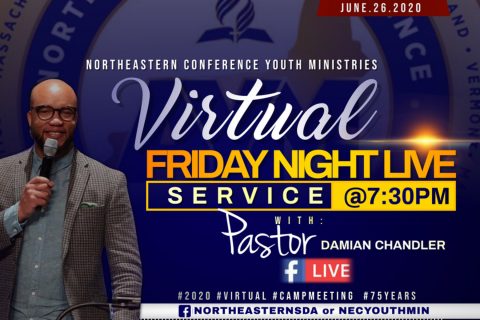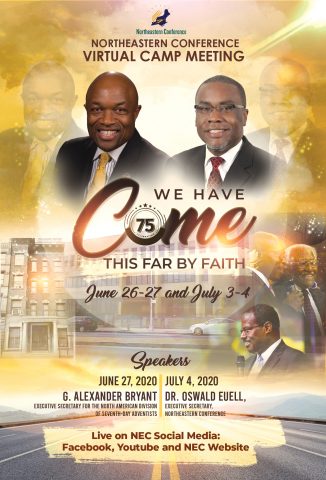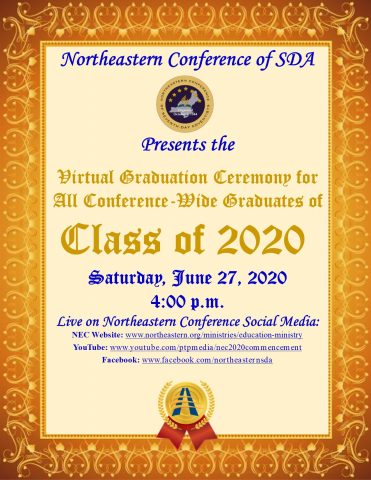 To the left you will find the flyers pertaining to NEC Virtual Camp Meeting Programs for Friday, June 26th and Sabbath, June 27th:
Friday Night Live - Presented by the Youth Ministries Department
Sabbath School - Presented by Ephesus SDA Church
Worship Service
Education Department Commencement Ceremony
How to View the Programs
Friday Evening - June 26 - Friday Night Live!
The Youth Department will be hosting Friday Night Live with Pastor Damian Chandler at 7:30 pm. It can be viewed on www.facebook.com/northeasternsda or www.facebook.com/necyouthmin.
Sabbath June 27th - Sabbath School and Worship Service
Sabbath School will be presented by the Ephesus SDA Church and it will begin at 10:00 am.
Worship Service will begin at 11:00 am and feature wonderful musical artists from around the Northeastern Conference such as the Northeastern Academy Choir, Determined Praise Team and Shirley-Ann Lawrence and the special guest speaker is Dr. G. Alexander Bryant, Executive Secretary for the North American Division.
The services can be viewed via the Northeastern Conference Youtube Page - https://youtu.be/2Jw8IOZZo60. This link will also be shared on Sabbath Morning to the NEC Facebook Page - www.facebook.com/northeasternsda and the Northeastern Conference Website. 
Sabbath June 27th - Education Commencement Ceremony