Pastor Kosly Joseph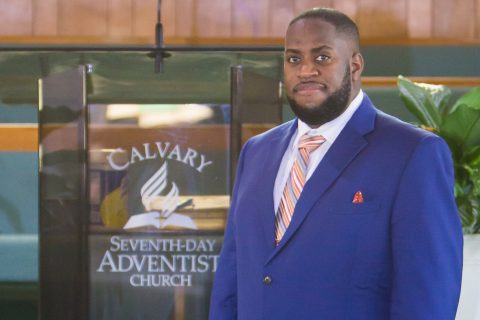 is an ordained pastor, technology guru and aviation lover. How all three of those things fit together could only be orchestrated by God. 
He is the second of four boys born to Pastor Jose and Kethlie Joseph. As a boy he dreamed of becoming an airline pilot. He began working toward that goal as a high school student, taking flying lessons in Brookhaven, NY. He completed a bachelor's degree in Aviation Administration at the State University of New York at Farmingdale and earned a private pilot's license in 1999.
By that fall, he was training to become an air traffic controller, guiding pilots in and out of JFK airport in New York City and then Albany airport in Upstate New York. He loved it! It was here that God was teaching him to work in high-pressure situations.
He realized, however, that air traffic control was not God's final destination, just a stop on the journey. When given an ultimatum to work on Sabbath or lose his job, Pastor Joseph chose to follow Christ. 
It was during this time that God began to teach him about working with people. His path wound through a variety of positions from teaching at ITT Technical Institute to boarding, loading and guiding planes on the ground as customer service representative for ExpressJet Airlines. Finally, he accepted a position as a Mac Genius, repairing computers, iPhones and more. You'll find he is still Apple loyal. It's not uncommon to find him today helping friends and family with technological problems or advocating using technology to reach people with the message of the love of Jesus Christ. His YouTube videos have touched the lives of believers and non-believers alike.
Pastor Joseph enjoyed talking to pilots, teaching students and helping people untangle tricky technology questions, but God knew it was time for a new segment on his life's journey.
In 2010, Pastor Joseph followed God's prompting to move with his wife, Michele, to Berrien Springs, MI, to attend Andrews University Seventh-day Adventist Theological Seminary. He graduated with a master's of divinity degree in 2013 and soon after took a call from the Potomac Conference. There he served as the Church Community Builder Coach, teaching churches how to build systems to create an inclusive experience for members and guests beyond the Sabbath morning worship experience. He also served as the pastor of the French American Church, pastor of Communication and Church Development at Takoma Park Church and district pastor of the Charlottesville and Harrisonburg churches. 
Now you may wonder what pastoring, aviation and technology have in common? They are all tools to be used by the Holy Spirit to point people to Jesus. One of his favorite things to do is head out to the local model airplane club flying field, strap a GoPro to his model helicopter and send it soaring. It's another way to blend something he loves with an opportunity to meet new people and share the love of Christ. Pastor Joseph knows that above all else that is key.